The National Football League Players Association (NFLPA) teamed up with Twitch Rivals and Epic Games to create Streamer Bowl, an annual Fortnite tournament that pits teams of content creators and NFL players against each other.
Streamer Bowl IV reached over 237K viewers, 85% of whom tuned in through co-streamers which meant engaging with the content through their favorite creator or NFL player.
Two in three viewers of the Twitch Rivals channel during the broadcast were first-time viewers of the channel, indicating that the NFLPA collaboration drew in a new audience.
The team with the highest AMA of the tournament was Twitch star xQc and Buccaneers running back Leonard Fournette, with a combined AMA of 22K.
The average viewer who tuned into the Twitch Rivals channel during the broadcast stuck around to watch the competition for about half an hour, which is significantly higher than average viewer watch time on Twitch.
Reaching a new audience can always be tricky for advertisers, but partnering with a well-known and beloved community can greatly increase the chances of success. Streamer Bowl IV is one example of such a collaboration between the NFLPA, Epic Games and Twitch Rivals, a channel on the streaming platform Twitch that pits popular content creators against each other in some of the most-watched games.
Taking place the week before the NFL Super Bowl, Streamer Bowl takes well-known Twitch streamers and teams them up with popular NFL players to bridge the gap between the gaming and sports audiences.
Sixteen teams competed in Streamer Bowl IV and each team consisted of one Twitch streamer and one NFL player. Each contestant streamed the event on their own Twitch channel alongside the official Twitch Rivals broadcast. These co-streams offered a different way to watch the action if the viewer was interested in one team or personality. The event reached just over 237K unique signed-in viewers during the four-hour program across all co-streams. The official Twitch Rivals channel made up just under 15% of those viewers, meaning that the majority of viewers chose to engage with Streamer Bowl IV through their favorite content creators or NFL stars.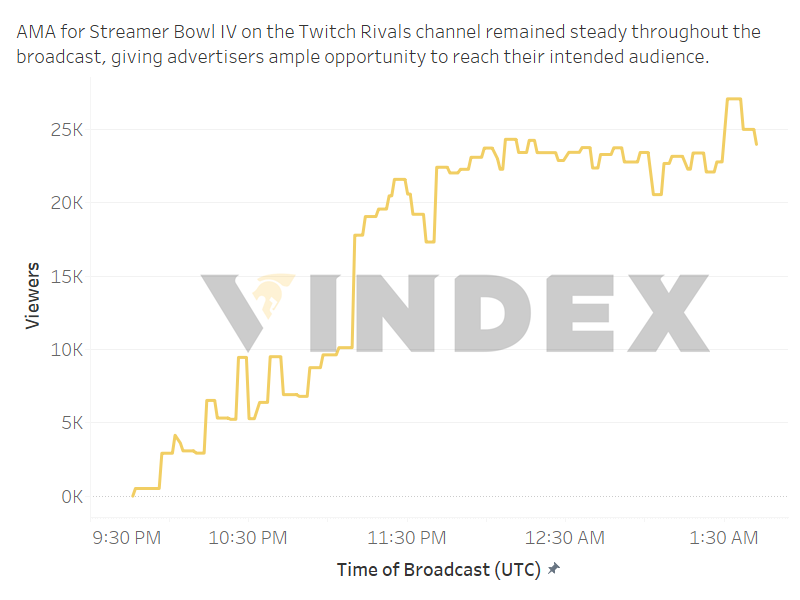 Two in three viewers who watched the Twitch Rivals channel had not watched in the six months prior to Streamer Bowl IV, meaning that 67% of the audience were first-time viewers of the channel. The combination of NFL players and a well-loved collection of content creators drew in a mostly new audience, a major indicator of the collaboration's success.
The content creator with the highest AMA during the event was xQc, with an average of 40K viewers throughout Streamer Bowl IV. His teammate Leonard Fournette, a running back for the Tampa Bay Buccaneers, had the highest AMA out of the NFL players with 830 viewers on average watching his channel. Playing alongside such a popular variety streamer certainly helped Leonard Fournette gain an audience on Twitch, extending his brand beyond just NFL fans.
Audience watch time was also high for Streamer Bowl IV viewers. The typical viewer tuning into the Twitch Rivals channel stayed for about 28 minutes. Half an hour of attention is great by any standard of watch time, but some channels kept their viewers engaged for much longer. For example, xQc viewers typically stayed for around 53 minutes, nearing one third of his total broadcast length.
The NFLPA knew that by collaborating with Twitch Rivals they would be able to connect their stars with the highly sought-after Millennial and Gen Z audience in an authentic way, improving their reach within that demographic. As brands and advertisers move into the gaming space more opportunities like Streamer Bowl will become available, but getting in early can engender positive sentiment towards the brand thanks to their willingness to support creators that were already part of the community.
Big brand collaborations with content creators are a great way for advertisers to reach the Millennial and Gen Z audience. The Vindex Intelligence Platform provides a comprehensive 360-view of the most influential content creators in the space, empowering brands to amplify their campaign messaging and target hard-to-reach audiences. Click here to learn more.