Sports and Music are the top non-gaming categories on Twitch for advertisers, with 30M unique viewers tuning in to watch their favorite artists and athletes in 2022.
In aggregate, Sports and Music grew 400% in hours watched since 2019, highlighting their persistent appeal on Twitch.
Sports had the highest annual growth of any non-gaming category, with 25% more hours watched in 2022 compared to 2021.
Musicians like Daft Punk and soccer personalities like Luis Enrique and Neymar were big draws for their respective categories, leading to significant spikes in unique viewers.
Over 70% of Twitch viewers are Millennials and Gen Zers, giving advertisers access to a highly engaged audience that is harder to target through conventional media campaigns.
As Millennial and Gen Z audiences continue to eschew traditional media channels in favor of alternative destinations like Twitch, it's important for advertisers to adjust their media plans accordingly and capitalize on shifting media consumption trends.
Twitch has in recent years worked diligently to diversify its gaming and esports content categories to include a variety of non-gaming verticals to improve its appeal among non-endemic advertisers. Of these, sports and music are the most impactful, having grown a combined 400% since 2019 and offering a compelling entry point for brands to consider when planning their marketing mix.
A distinct benefit of these non-gaming categories is that they are likely to integrate well with traditional content verticals advertisers already spend against, resulting in a natural alignment with a brand's campaign messaging.
Taking advantage of these content categories can take the form of sponsoring sports livestreams to complement linear television ads and music livestreams to amplify messaging tied to concerts and music festivals. Extending these larger ad buys to include Twitch allows brands to tap into its highly engaged Millennial and Gen Z audience, who in aggregate represent over 70% of Twitch's total userbase.
The sports category enjoyed a significant lift this year, thanks in large part to the FIFA World Cup in Qatar, which introduced soccer to many Twitch viewers who don't normally watch the sport.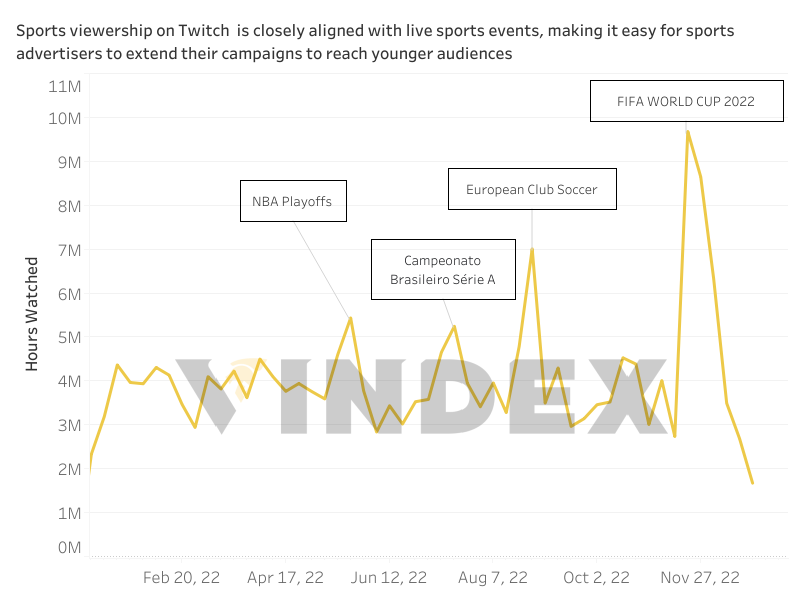 While no official World Cup games were broadcast on Twitch, many of its most popular streamers provided live commentary and reactions during the game, including 'ibai' and 'TheGrefg'. Even, Luis Enrique, the coach of Spain's national soccer team, used the platform to provide a daily briefing of the world cup tournament while coaching his team in Qatar, giving fans an opportunity to connect with him by asking questions through live chat.
The music category, in turn, commands the largest non-gaming audience on Twitch, having over 250K unique channels that led to over 227 million hours watched in 2022. The success of the category on Twitch can be traced to a pandemic-era surge of musicians, who in the absence of live events, wanted to continue reaching their fans and appeal to new ones. Since then, Twitch has helped many artists earn additional income from subscriptions and donations, which is important given that artists only earn a tiny portion of their income from music royalties and depend heavily on live gigs and merchandise sales to support their craft.
One such artist is Portuguese D.J. Vanessa Lopez, who began streaming at the end of 2020 and has since grown to become the category's most popular artist and one of the biggest streamers overall, cracking the top 50 in total paid subscribers and attracting nearly half a million unique viewers in 2022. Popular artists like Daft Punk and Deadmau5 have also used the platform to connect with their fans, with Daft Punk airing previously unreleased concert footage of the duo from 1997 in a rare one-time broadcast.
The sustained growth of non-gaming categories like music and sports on Twitch is only the tip of the iceberg, with numerous other content verticals like politics, art, fitness and talk shows showing steady year-over-year gains on the platform. By partnering with influential livestreaming content creators, brands can tap into highly engaged Millennials and Gen Zers, boosting their mindshare among hard-to-reach audiences.
The sports and music categories on Twitch are a great way for non-endemic advertisers to expand their reach among Millennials and Gen Zers. The Vindex Intelligence Platform provides a comprehensive 360-view of the most influential content creators in the space, empowering brands to amplify their campaign messaging and target hard-to-reach audiences. Click here to learn more.